Hue Court refurbishment gets the go ahead
02/04/2019
Andium Homes is delighted to confirm that, having had the loan agreement approved by the Treasury Minister, the Hue Court refurbishment is now due to commence.
Rok Construction has been successful in the tender for the refurbishment. The contract will deliver a full refurbishment of both high-rise buildings, 90 units in total, over a 74-week period.
Internally, the work includes a full rewire, new plumbing, insulation and ventilation upgrades, new kitchens and bathrooms. Substantial fire upgrades will be carried out which include sprinklers to be installed to all the flats and communal areas. Externally, the buildings will both have new windows, a new roof and the lower portion of the buildings will be externally insulated with a new finish. The basement will be upgraded with new lighting, sprinklers and other associated fire upgrades. The work will modernise the buildings aesthetically as well as upgrading their performance, significantly reducing maintenance and running costs for the future.
In order to meet the actions identified for Andium Homes which came out of the Independent Jersey Care Inquiry, all 90 units, on completion, will be offered to Health and Community Services to provide much needed Keyworker accommodation. This decision is fully supported by the Minister for Children and Housing and Keyworker Project Board.
Frank Walker OBE, Andium Homes Chairman, said "I believe Andium Homes is the most appropriate vehicle to deliver affordable housing for Keyworkers in Jersey. The refurbishment of Hue Court provides an excellent opportunity to do this and has been welcomed by Health and Community Services and the Minister for Children and Housing. We are working hard to increase the supply of homes for all Islanders and are on site now delivering 760 new homes, towards our target of 3,000 new homes by 2030".
Deputy Richard Renouf, Minister for Health and Community Services, said "I am well aware of the excellent standard of Keyworker accommodation that Andium delivered at The Limes and am delighted with their latest proposals for Hue Court. The recruitment and retention of our staff is a challenge for us and there is no doubt that the standard of housing previously available has contributed to that. We should be able to offer our Keyworkers good quality accommodation in an appropriate location and I believe Hue Court will provide just that."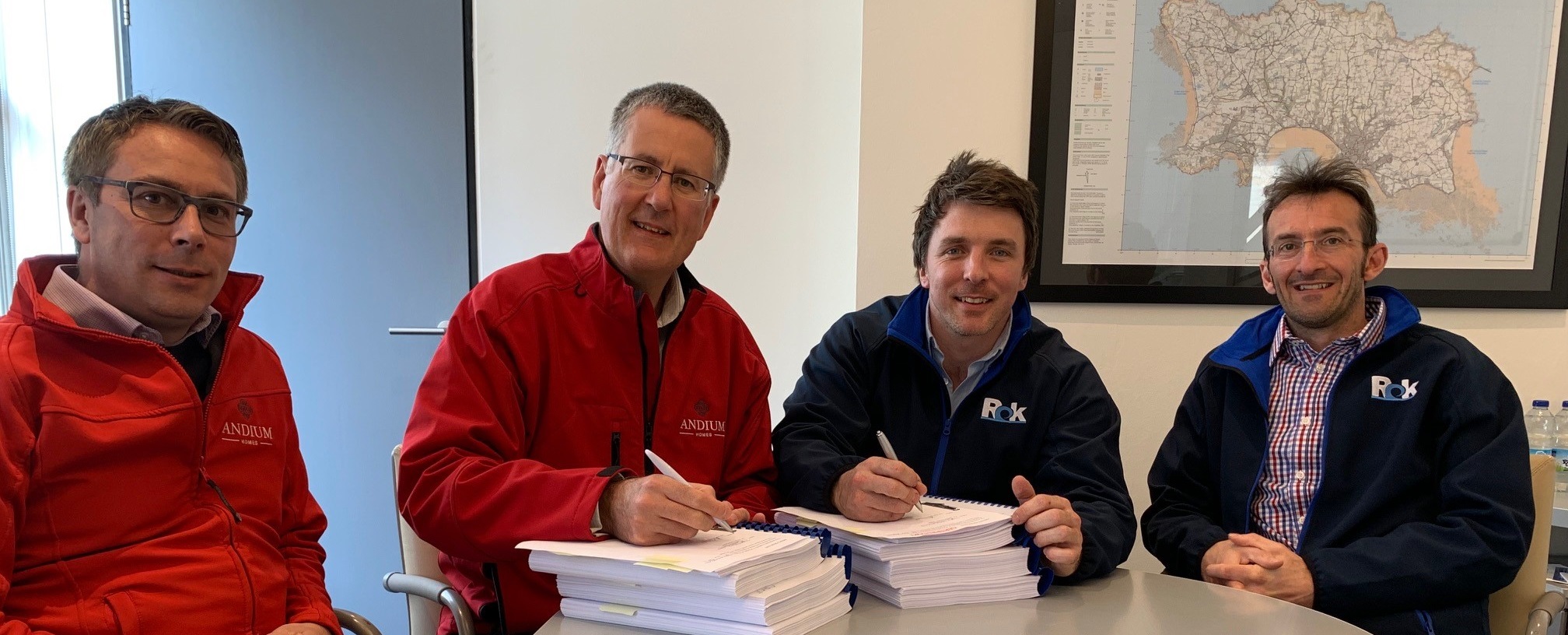 Signing the contracts: Darren Hodges & Stephen Lilley from Andium Homes with Kevan Nelson & Richard De Gruchy from Rok Construction