Andium @ Home client app
We are delighted to be launching our self-service application for our clients.

The application will allow you to;
Access your rent account information
Update your details
Manage your tenancy
Report fly-tipping and graffiti
Report anti-social behaviour
Provide feedback on our services
…….and more.
The app is available to download now from the Apple App Store and Google Play Store.
Watch our short video to find out what you need to do to register.


Text message and email services 
You can use our text message and email service which will allow you to receive information about your rent account 24/7.
If you text "Balance" to 07860035589 us from a number that we hold against your rent account you can receive a message with the current balance on your account. 
You can also request a full rent statement if you text "Statement" to 07860035589 or email ask@andiumhomes.je putting the word "Statement" in the subject line. This will forward a statement to the email address we hold against your account.
If you would like to access these services please ensure that we have your current and up to date contact details

Go paperless – receive your next rent statement by email 
From April onwards we will be sending quarterly rent statements by email. If we have your email address on record you will receive an emailed statement at the end of each quarter.
If you would like to receive your statement by this method please contact us to ensure we have your up to date email address on record.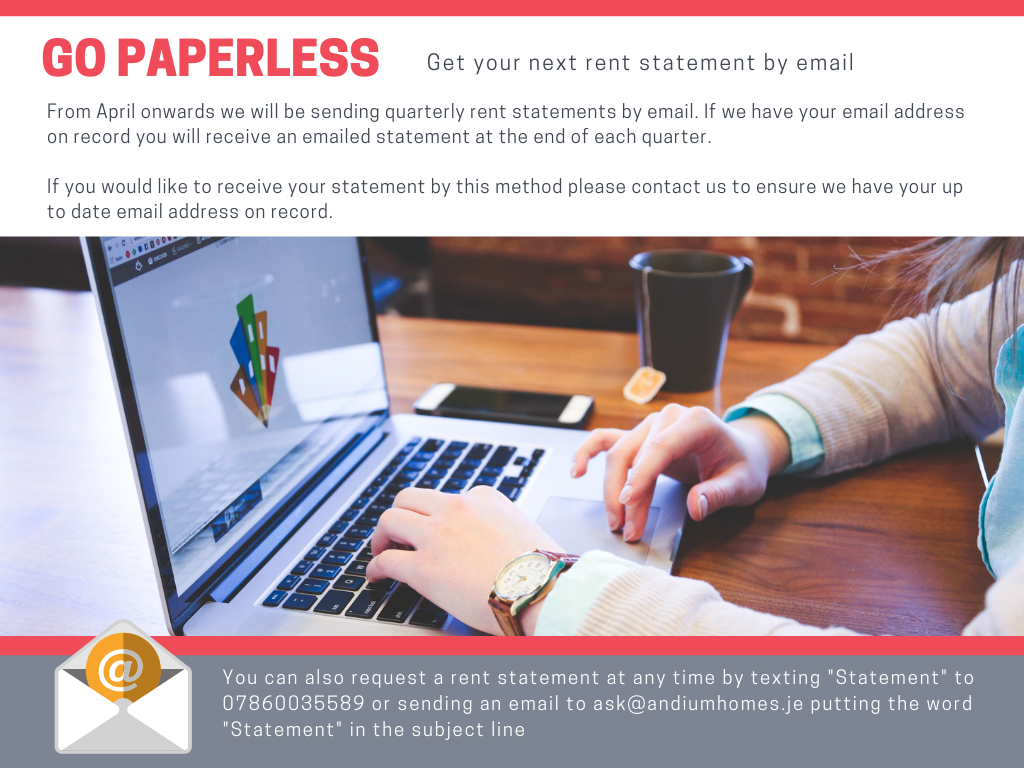 Last modified: 18/04/2019