Andium@Home
You can access everything you need to manage your Andium Homes tenancy through our secure client web portal and app.
Andium@Home users can:
Access rent account information
Update details
Manage their tenancy
Report fly-tipping and graffiti
Report anti-social behaviour
Provide feedback on our services
…….and more.
Access the web portal
It's simple – you can get straight into your account, quickly and easily, and because it is all digital you can do it on a PC, laptop, a tablet or even a smartphone.
To register all you need to have to hand is your rent account number and email address. Once you complete the validation process you can access your account.
The web portal works alongside Andium@Home app, if you have already registered using our app you can access the portal now.
Download the app
Download the Andium@Home app from the Apple App Store and Google Play Store.


Andium@Home app Quick Reference Guide
Text message and email services 
You can use our text message and email service which will allow you to receive information about your rent account 24/7.
If you text "Balance" to 07860035589 us from a number that we hold against your rent account you can receive a message with the current balance on your account. 
You can also request a full rent statement if you text "Statement" to 07860035589 or email ask@andiumhomes.je putting the word "Statement" in the subject line. This will forward a statement to the email address we hold against your account.
If you would like to access these services please ensure that we have your current and up to date contact details.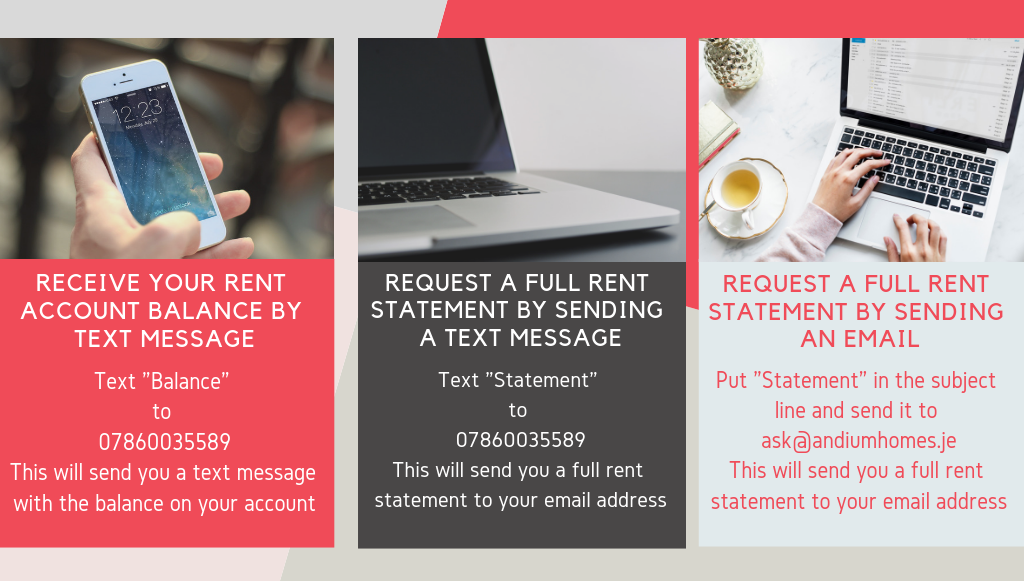 Last modified: 01/06/2020