​The Andium Homes Board provide oversight and strategic direction to ensure sound financial practices and the delivery of our services to a high standard.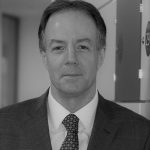 Richard McCarthy CBE Chair
Richard is currently Senior Director – Government Affairs at Capita plc, providing corporate leadership, representation and insight on Capita's relationship, engagement, and future business activity with central and regional government. In addition, he is also the Non-Executive Chair of the Data and Communications Company, Fera Science and Axelos.
Prior to his current position, Richard was a Director General at Department for Communities and Local Government in the UK where he was the lead official on housing, planning, regeneration, local economies, building standards and climate change.
Along with several other key Executive and Non-Executive positions, Richard was the Chief Executive of the Peabody Trust and the Horizon Housing Group and Chairman of the Housing Federation from 2000 – 2003 and is currently on the Board of Funding Affordable Homes. 

Jason Laity Independent Non-Executive Director
Jason Laity has spent his business career in Jersey.  He was Senior Partner and Chairman of KPMG in the Channel Islands until 30 September 2019.  He is a Chartered Accountant, a Chartered Tax Adviser, and an Accounting Technician. He has extensive experience of the financial services industry in Jersey, significant leadership and board level experience, and has participated in or led a wide variety of engagements in his career. Jason has been Chairman of the local branch of the Institute of Directors, and a Governor of Victoria College. Jason has a keen interest in technology.

Judy Beaumont Non-Executive Director
Judy Beaumont, originally from Manchester, has been resident in Jersey for 26 years. Having initially trained as a nursery nurse Judy then worked for the City of Manchester as a traffic warden, becoming a supervisor and training officer. On moving to Jersey she worked in the Tourism industry, then followed a career in nursery nursing and most recently worked in a primary school undertaking a variety of ancillary teaching support roles.  Judy is on the Committee of the First Tower Community Association, a member of the Pomme D'Or Farm Estate residents group and an active fund raiser for local charities.

Elaine Bailey Non-Executive Director
Elaine has recently retired as Chief Executive of Hyde Housing Group, which manages 50,000 homes and develops 1,500 homes a year in the south east of England.
Elaine also has experience on the Board of a large charity working with young people and led Hyde's initiatives in fire safety following Grenfell. Her previous experience includes being MD Home Affairs for Serco and Director of Security and Board Member of HM Prison Service.

Julian Box Non-Executive Director
Julian founded Calligo in January 2012 and is the company's Chief Executive Officer. He brings over 30 years' experience in helping organisations streamline operations through the innovative application of technology. Julian also applies his unique expertise as a non-exec to several FinTech businesses as well as working with several local schools on their technology roadmaps. These include Jersey College for Girls whereas a governor he works with the school's executive team on its technology roadmap and innovative ways of applying technology into all aspects of the curriculum.

Jonathan Day Non-Executive Director
Jonathan is a Chartered Accountant with over 25 years of experience in providing financial and business advice to Jersey businesses and individuals. He is the founder of a Jersey accountancy practice, which specialises in supporting local start-up and fast growth businesses in the Fintech space. Jonathan has held several senior positions, both on and off-island which include Chief Operating Officer of a Jersey Fund Administration firm, Finance Director of a Jersey telecoms company and Chief Finance Officer of a Jersey Property Management firm.

Ian Gallichan Executive Director
Chief Executive
A Jerseyman, Ian was educated at Victoria College, beginning his career as an officer in the Royal Hong Kong Police. Ian joined the Housing Department in 1991 and has progressed through the organisation working in every aspect of social housing. In 2006 Ian was appointed as the Chief Officer of Jersey's Housing Department. In 2010 Ian was instrumental in commissioning an independent review of social housing in  Jersey.  Ian led the three year Housing Transformation Programme with his team and is delighted that Andium Homes is now delivering affordable housing and related services to the people of Jersey.
​
Lindsay Wood Executive Director
Finance Director
Lindsay is a Chartered Accountant; she has been instrumental in managing Andium's finances since joining the team in 2011 to help create the business case for the creation of Andium Homes. Lindsay is passionate about sustainable financial solutions that enable Andium Homes to maintain financial strength and stability, whilst delivering more homes and excellent services to our clients. Lindsay keeps us on track and ensures we have the financial resources we need, whilst also ensuring we spend our money wisely and continue to make our financial return to the Government of Jersey.
Originally from the North of England, Lindsay started her career in a small accountancy firm. Lindsay moved on to work for Ernst & Young and PwC in Manchester, Bermuda and Jersey where she worked with a wide range of commercial and financial service clients.
Page Author: Fiona Halliwell