*******
Current Update – November 2019
The deadline date to submit any purchasing interest to this development has now passed and we are no longer accepting any further applications.
Finalisation of the phased handover of the development is nearing completion and current plans indicate that 15 three bedroom homes will now be ready for sale early 2020, and the final 25 three bedroom homes will be complete towards the end of 2020.
We have now allocated the affordable homes for sales to the 40 longest serving mortgage ready Band 5 applications who fulfilled the criteria set out by the Minister for Housing.
*******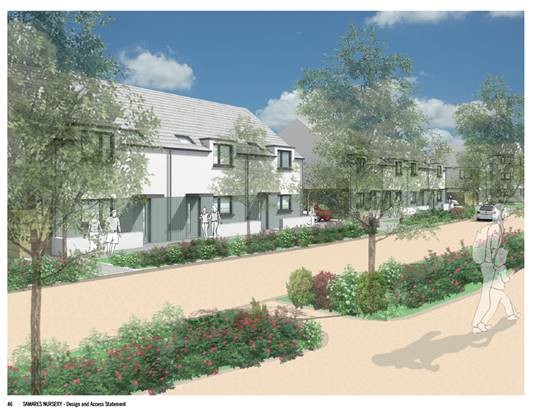 Construction works on this exciting development started in 2018 and continue to progress. Once works are complete, the estate will be a mixed tenure set up where 40 three-bedroom houses will be privately owned as affordable homes, and the remaining 160 properties will be retained by Andium Homes for rental clients. The 40 houses marketed for sale offer good sized family homes, each with two designated parking spaces and private gardens.
Samares Estate Plan
Samares Floor Plans
How do we make the homes affordable?
These 40 properties were marketed for sale through our Andium Homebuy scheme, which ensures they are forever affordable. The First Time Buyer Market Sale Price for these homes was agreed on completion of a valuation review to each house plot. The affordable purchase price of these homes was then calculated by Statistics Jersey and took into consideration the amount a family earning an average income could afford. Once the outright Market Sale Price and the affordable purchase price was confirmed, we then offer a deferred payment value which will cover the shortfall between these two figures for the buyer. This means that the buyer will be required to pay a lesser value of the outright Market Sale Price, whilst still owning the property in full. The deferred payment value will be held as a charge against the property secondary to the mortgage.
How were these homes allocated?
Due to the high volume of purchasing demand for family homes, these properties were initially advertised to family applicants registered on Band 5 of the Gateway. The homes were allocated to the longest serving Band 5 applicants who also fulfilled the allocation criteria below, as set out by the Minister for Housing.
First Time Buyer
Sole or joint custody of at least 1 dependent
maximum gross household income of £80,000
mortgage 'Agreement in Principle' from a mortgage provider
provide an initial refundable reservation fee of £1,000 at the time of 'Off-Plan' plot selection
provide confirmation of a non-refundable deposit of 5% of the out right First Time Buyer Sale Price (three months before completion).
How have these homes been allocated off plan?
House plot selection was based on the date that the family applicant registered on Band 5 of the Gateway, with the longest serving applicant having first choice, second longest having second choice and so on.
Which mortgage providers are supporting these affordable homes?
Skipton International, Barclays Bank Plc, Lloyds Bank and NatWest International are all currently supportive of Andium Homebuy.
Last modified: 22/11/2019