*******
Update – 01 February 2019
To provide a brief update, the deadline date to submit any purchasing interest to this development has now passed and we are no longer accepting any further applications. In total, we have received purchasing interest from 141 applicants and are pleased to confirm that we have now completed our Allocation Review in order to gain a better understanding to the circumstances of each client, including their financial position and Gateway application detail.
Finalisation of the phased handover of the development is nearing completion and current plans indicate that 15 homes will be ready for sale in October 2019, and the next 25 homes will be complete in August 2020.
We have now communicated to all clients who submitted their purchasing interest, and have confirmed the allocation of these homes to the 40 longest serving Band 5 applications who fulfil the criteria as set out by the Minister for Housing. We do anticipate that some clients may have to withdraw from the process due to change or circumstances and/or affordability, so have also communicated to the 41 to 60 longest serving applicants that they are now named in a 'Reserve List'.  
We would like to thank all clients who submitted their purchasing interest towards this development, and of course urge all clients who were unsuccessful in our Allocation Review to continue monitoring our Andium Homebuy webpage. We do hope that we can provide financial assistance in your house purchase needs in the near future.
*******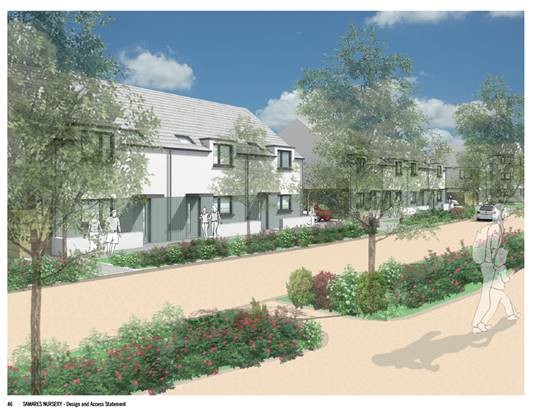 We are pleased to advise that we are offering the sale of 40 three-bedroom houses at this exciting development. Located on St Clement's inner-road (La Grande Route De St Clement), these 40 properties offer good sized family homes, each with two designated parking spaces and private gardens. The estate will be a mixed tenure set up where these 40 houses will be sold and privately owned as affordable homes, and the remaining 160 properties will be retained by Andium Homes for rental clients.
Samares Estate Plan
Samares Floor Plans
Building works started this year and is anticipated that the first 15 affordable homes for sale will be complete October 2019, and the next 25 affordable homes for sale will be complete August 2020. Therefore, we are now in a position to market and allocate all 40 homes, however we be working closely with first 15 properties as these fall within the 1st build phase.
How do we make the homes affordable?
These 15 properties will be sold through our Andium Homebuy scheme, which ensures they are forever affordable. The First Time Buyer Sale Price for these homes will be agreed at the end of this year, but as a guide we will be selling three bedroom at the De La Mare Nurseries site in Grouville for between £460,000 and £475,000 and therefore consider the homes at Samares will be in this region (Subject To Final Valuations). The affordable price of these homes will be calculated by Statistics Jersey and takes into consideration the amount a family earning an average income could afford. This figure currently sits at £353,000 meaning the purchase will defer £122,000 (assuming a property value of £475,000) of the First Time Buyer Sale Price until the property is next conveyed, which is generally when the property is next sold. This means that the purchaser will only be required to pay 74% of the purchase price, whilst still owning the property in full. The deferred payment value will be held as a charge against the property secondary to the mortgage.
How will these homes be allocated?
Due to the high volume of purchasing demand for family homes, these properties will initially be advertised to family applicants registered on Band 5 of the Gateway. The homes will be allocated to the longest serving Band 5 applicants who also fulfill the allocation criteria below, as set out by the Minister for Housing.
First Time Buyer
Sole or joint custody of at least 1 dependent
maximum gross household income of £80,000
mortgage 'Agreement in Principle' from a mortgage provider
provide an initial refundable reservation fee of £1,000 at the time of 'Off-Plan' plot selection (early 2019)
provide confirmation of a non-refundable deposit of 5% of the out right First Time Buyer Sale Price in June 2019 (three months before completion). This confirmation must be confirmed by providing documentary proof of funds.
If you think that the criteria detailed above unfairly excludes you from the sales process of these homes, then please be advised that appeals can be made in writing to the Strategic Housing Unit, Department for Strategic Policy, Performance and Population, 5th Floor, Cyril Le Marquand House, PO Box 140, St Helier JE4 8QT.
How will the homes be allocated off plan?
Selection for a plot on the site will be based on the date that the family applicant registered on Band 5 of the Gateway, with the longest serving applicant having first choice, second longest having second choice and so on.
How do I submit any purchasing interest?
All purchasing interest must be submitted by email to samares@andiumhomes.je by 5pm Friday 30 November 2018. We will unfortunately not be in a position to accept any purchasing interest towards these homes once this deadline date has passed.
On submitting purchasing interest please include the following information:
Gross household annual income (basic salary not including overtime)
Any regular annual bonus
If self-employed, please provide net profit for the last 2 years
Personal savings information
Personal loans and credit cards information (including the monthly repayment amount and remaining term)
Income Support information
Your family composition
We do not require any documents from you when submitting purchasing interest, and at this stage are content that you merely answer all of the above points in your email.
What is next once purchasing interest has been submitted?
After the deadline date has passed, we will complete an Allocation Review and then respond to the 40 families who are identified as the proposed purchasers. We plan to invite the purchasers to our offices in the early part of 2019 to provide an opportunity to view the property plans and ask any relevant questions to our Sales Team and Construction Team. In early part of 2019, we will schedule individual meetings with the purchasers where they will be able to select their plot on payment of the reservation fee. Please note that upon payment of the reservation fee, the applicant will become inactive on the Gateway and will no longer be sent any marketing communications regarding properties for sale through Andium Homebuy.
Which mortgage providers are supporting these affordable homes?
Skipton International, Barclays Bank Plc and NatWest International are all currently supportive of Andium Homebuy. We are also hopeful that a fourth mortgage provider will receive the necessary approvals in due course. Any property offer made to an applicant is 'Subject To Contract', and subject to that person being able to secure the necessary mortgage in order to purchase a home.
In June 2019, each purchaser must provide confirmation to Andium Homes that they have secured the necessary mortgage 'Approval in Principle'.
Last modified: 01/02/2019